It's that easy to protect corporate networks under Windows 7
Seldom have cyber-attacks and corporate espionage been a hotter topic than of late. Because for many companies, data is their main capital, and it's up to them to protect this precious asset. AV-TEST subjected 9 corporate network security solutions to laboratory tests and was able to issue a certificate of tested security to nearly all of them.
In addition to the ever-present danger of cyber-attacks, there is even more bad news from Microsoft: the mainstream support for Windows 7 is being discontinued, effective immediately. Only security updates are still being issued. Anything that is not classified as security-relevant will not receive a free update from Microsoft.
At the AV-TEST laboratories, 8 products were tested for the client-server environment under Windows 7. Included in the test were solutions from Bitdefender, F-Secure, G Data, Kaspersky Lab, McAfee, Sophos, Symantec and Trend Micro. For a better comparison, the antivirus solution from Microsoft as basic protection was also tested. Owners of the Microsoft System Center 2012 management suite can use the Endpoint Protection 2012 module free of charge. But it cannot be acquired separately.
1
The protection function in detail
2
The protection function in detail
3
Kaspersky Endpoint Security
4
Bitdefender Endpoint Security
More security for the network
The experts from AV-TEST evaluated all the packages in terms of their protection, performance and usability. All the tests were repeated four weeks later, and the findings were summarized. The especially vital area of protection function is additionally divided up into two categories. On the one hand, in the challenging real-world test, the solutions were required to detect new, still unknown malware specimens. Then in the second test phase, the object was to scan the AV-TEST reference set with over 12,000 already known threats.
In the real-world test with 150 new, still unknown, malware threats, the packages from F-Secure, Kaspersky Lab, Symantec and Trend Micro were able to detect between 99 and 100 percent. That's good performance. In the second test phase, almost all the products detected 100% of the malware. Only Trend Micro failed to recognize one old acquaintance, and came in at 99 percent. The Microsoft module included in the test often missed malware specimens, only recognizing 51 and 77% respectively.
System load for the clients
A powerful security solution for client-server systems always requires a certain amount of system resources to get the job done. But how much is needed to provide optimal system protection? The laboratory also measured this criterion, after all, what good is the best protection if the client is overloaded in the process, and copying data suddenly takes forever. The first three products finishing 1st and 2nd from Bitdefender, Kaspersky and Trend Micro require the fewest resources for their work, although they are among those providing the best protection. While the solution from F-Secure achieved the highest point score in terms of its protection function, it demanded much more processing power from the clients.
The products from G Data, McAfee and Microsoft generated the highest measured load on the clients, and thus received only 4 out of 6 possible points in the performance category.
Less work for support staff
In-house support technicians are all too familiar with the problem: flustered employees call for help because their client is sounding an alarm. Most cases, however, involve false positives. In order to evaluate the performance of security solutions, the test laboratory visited 500 clean websites and scanned over 400,000 clean applications with each client. In addition, dozens of software programs were installed with active protection running in the background, and the performance of the solutions was logged.
Nearly all the products were able to garner 6 out of 6 possible points in this category, as they showed no abnormalities worth mentioning. Only McAfee and F-Secure falsely detected a few clean programs and also blocked a few benign applications in the installation test.
On the safe side with corporate networks
The highest attainable point score for protection, performance (system load) and usability was 18 points. The security solution from Bitdefender came in just shy of a perfect score with 17.5 points. This was followed by the enterprise system watchdogs from Kaspersky Lab and Trend Micro, scoring 17 points each. Symantec came in 3rd place with a total of 16.5 points.
The solid midfield included F-Secure, G Data, Sophos and McAfee with 14.5 to 15.5 points. Those final results are not bad, whereby Sophos was somewhat weaker in its protection function, achieving only 4 out of 6 points.
And even though the protection module from Microsoft is available free of charge, companies would be ill advised to utilize it. Because in the category of protection function, the solution received all of 0 points from the testers.
Test reports from November/December 2014,
enterprise solutions under Windows 7
All results ›

Don't let your budget determine your security needs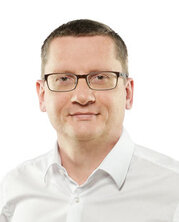 Guido Habicht, CEO AV-TEST GmbH
As AV-TEST's ongoing tests of corporate security software demonstrate, company networks are capable of deploying a high level of protection.
Any attack on a medium-sized company, corporation or even group can cost a lot of money. This fact has been highlighted by Kaspersky Lab, for example, in its latest studies. Accordingly, surveys reveal that even a single DDoS attack can wreak damage ranging from 40,000 to nearly 400,000 euros. A good security solution can prevent this.
In each test, AV-TEST issues certificates for tested security. Also in the current test, all the products, except for the Microsoft solution tested for comparison, received the certificate "Approved Corporate Endpoint Protection".
Tests for home users
More ›
Tests for business users
More ›

Internet of Things (IoT)
More ›