Strong protection for corporate networks with Windows 7
Windows 7 is the most widely used operating system in companies. It is run on at least one out of two PCs. The newer Windows 8.1 was unable to have any effect on these numbers. AV-TEST examined 11 solutions for companies under Windows 7 in terms of their protection function, and can recommend most of them.
Company owners seeking a reliable protection solution for Windows have many good products to choose from. In the current evaluation by AV-TEST, 10 protection solutions for the corporate network were put to the test. As an 11th product, the security module Endpoint Protection 2012 from Microsoft was also examined. It is part of the Microsoft Management Suite System Center 2012 and is bundled free of charge. Windows 7 was used as a test platform.
Many companies decided only late in the game to migrate to Windows 7. That is why the subsequent change to Windows 8.1 was mostly left out completely. This fact has also been confirmed by various statistics portals, such as Statista.com or StatCounter. Over 60% of the Windows PCs used by businesses are running under Windows 7, some 22% under Windows 8.1 and still roughly 18% under Windows XP.
1
Enterprise network security
4
Kaspersky Small Office Security
5
Bitdefender Endpoint Security
6
Microsoft Endpoint Protection
Windows 7 requires protection
The attacks on corporate networks by cybercriminals are on a constant upswing. That is why the use of a security solution is indispensable. Several products in fact finished the test with excellent results. The solutions from Bitdefender and Kaspersky (Small Office Security) completed all 3 test segments such as protection, performance and usability with 6 out of a possible 6 points each. In the overall results, these products, with the highest score of 18 points, were the top finishers. With 17.5 points, the solutions from F-Secure and Kaspersky (Endpoint Security) , followed very close behind.
An economical option for protecting a corporate network is the use of the endpoint module, bundled in the Microsoft Management Suite System Center 2012. The test revealed, however, that this is not to be recommended. The solution was awarded 0 points by the testers in terms of its protection function, and it achieved only 11 out of 18 possible points.
Very high protection function
In the test, all the solutions were required to prove their protection function The lab uses two tests for this purpose: the real-world test with new, still unknown threats, and the AV-TEST reference set with nearly 30,000 already known malware specimens. The malware in the real-world test was collected within the 4 weeks prior to test launch.
In this critical test area, a total of 6 products achieved a 100% detection rate, earning the maximum score of 6 points. This included Bitdefender, F-Secure, Trend Micro, Symantec, and both solutions from Kaspersky. Microsoft Security Essentials, tested for comparison, detected only 73 and 87 percent respectively in the test. This accounted for the rating of 0 points.
Low burden on the clients
In the additional test category of performance, the lab examines how heavily a security solution's routines put a burden on a client PC. Using a reference PC, websites are visited, downloads performed, applications installed and launched, and data copied under Windows. The time is clocked for all these routines, thus serving as a benchmark for all products.
Many of the security packages are able to garner valuable points in this section: Bitdefender, F-Secure and Kaspersky Small Office Security scored 6 points each. Kaspersky Endpoint Security, Trend Micro and Symantec still achieved good results of 5 to 5.5 points.
Showing weaker performance is the solution from Intel (formerly McAfee) with only 4 points. Seqrite slowed down the test client very noticeably, scoring only 1.5 out of a possible 6 points.
Top scores in usability
All the products showed superb performance in terms of user-friendliness. In this phase, the lab determined the extent to which the solutions unsettle the user on the client with false malware alarms. Furthermore, the test examines whether the products prevent installations of harmless software, for example, or block clean websites. Overall, the lab was able to award the top score of 6 in eight cases and 5.5 points in three cases.
Fortunately, the problem of false positives has in fact continued to improve over the past two years.
Excellent solutions to choose from
The test yielded excellent results for most products. When focusing solely on the protection function, a total of 6 solutions flawlessly detected and completely removed all the malware specimens.
The maximum score attainable by each solution was 18 points. Only the products Bitdefender Endpoint Security and Kaspersky Small Office Security achieved this score. Yet the solutions from F-Secure and Kaspersky Endpoint Security, at 17.5 points, also came very close to a maximum score. Overall, the midfield achieve very favorable scores.
The solutions from Seqrite and the security module from Microsoft, tested for comparison, made a considerably weaker showing. While Seqrite still did a respectable job in detecting malware, it slows down the clients much too heavily in the process. The freeware Microsoft module is much too feeble in the detection of malware.
Test reports from March/April 2015,
enterprise solutions under Windows 7
All results ›

Certified security as a safeguard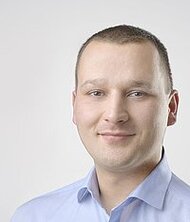 Director Testing Labs: Erik Heyland
While, for many other tests, the security solutions are only evaluated once a year, the certification tests from AV-TEST take place every two months. Based on these regular tests, it is possible to quickly determine which of the security solutions consistently meet the high testing requirements. Once a solution passes the test, it receives the certificate, "Approved Corporate Endpoint Protection" for tested security.
On the website, in the test area "The best antivirus software for Windows Client Business User" , each user, administrator or decision-maker can refer to all the test scores back to the year 2011. In doing so, it is possible to display the individual scores of each product. Or one can track a manufacturer: With just a few clicks, for example, it is possible to review all 23 tests from Symantec dating back to October 2011. Naturally, this includes all the necessary individual scores.
For a better overview, all the tests are divided up according to the test platforms under Windows: Windows 7, 8.1 and even Windows XP. In the near future, Windows 10 will also be established as an additional test platform.
Tests for home users
More ›
Tests for business users
More ›

Internet of Things (IoT)
More ›