Parental Control Software for Windows Put to the Test
The Internet offers many suitable playgrounds for children, but surely many more unsuitable ones. But how can the activities of children on the Web be controlled without parents constantly standing there next to them? One solution can be parental control software. The experts of AV-TEST have examined whether the software packages work reliably and have certified two products.
For parents, it is a constant tight-rope act as to how far they want to control the medium of the Internet for their children. If they forbid access, it just increases the allure of the forbidden. If they allow the child a free hand, that's irresponsible. That is why the obvious choice is to look towards parental control software to do the job. And how does it do so? Are these special software packages capable of filtering Internet content in such a way that on the one hand, interesting and suitable web pages will launch, yet on the other hand, unsuitable websites cannot be seen?
In this test, AV-TEST conducted a comparison involving two groups with three applications each in order to more effectively evaluate the performance. The three Internet protection packages were not part of the certification test.
- The products Kaspersky Safe Kids and Norton Family are two special parental control applications;
- Microsoft Family Safety, which offers parental control functions of Windows 10;
- The Internet security packages from F-Secure, Quick Heal and Trend Micro, each offering parental control functions.
1
Detection and filtering of websites
2
Important additional features
3
Log and report functions
Nearly 10,000 websites for testing
Only in the test segment involving the detection and filtering of links and websites were all of the above mentioned applications tested side-by-side. The further categories of additional features as well as log and report functions included only the two parental control programs and the internal Windows 10 module Microsoft Family Safety. Because the special functions required for the test were examined only on these three programs.
For better comparison, a fictitious seven-year-old child or appropriate ready-made templates were specified in all the packages. Subsequently, the programs were required to filter out over 6700 sites inappropriate for children in eight categories. As a counter sample, the packages were also supposed to recognize over 3000 websites tailored to children. The theoretical ideal case scenario would be if the 6700 sites were blocked and the 3000 sites were launched. But naturally, this was not achieved by any of the programs, as in both groups, false evaluations in the site analysis occurred repeatedly.
For a majority of the sites, the programs filtered by means of blacklisting technology: this is simply a blocked list with many known Internet addresses of websites of content inappropriate for children. The products were required to filter the rest of the websites in the test using their own algorithms, logical, syntax, and keyword analyses.
Categories facilitate sorting
The 6700 sites for evaluation are divided up into the following categories:
- Sex, nudity, pornography
- Chat rooms and forums (all)
- Dating and meeting sites
- Illegal data exchanges and file sharing
- Gambling
- Entertainment games (all)
- Shopping sites and auctions
- Weapons and ammunition
The two parental control software packages from Kaspersky Lab and Symantec filter the inappropriate websites at high rates, whereby Kaspersky, with scores almost always over 90 percent, does a somewhat better job. Conversely, Symantec is more effective with the counter-sample of appropriate websites with 97 percent; Kaspersky achieves 91 percent. The Windows 10 module only reliably filters in the category of sex, nudity, pornography, with 97 percent. Windows does not detect the rest of the categories and thus allows access to nearly 4500 websites. The counter-sample with child-appropriate websites, by contrast, was very successful. But in this case, it is probably due to the fact that many categories are not further scrutinized.
How well does security software filter?
But how do Internet security suites match up with their basic parental control functions? The table indicates that Quick Heal in particular is neck-and-neck in almost all categories, achieving sorting rates of just under or over 90 percent. Trend Micro and F-Secure each have some negative outliers. Quick Heal's rigid sorting is reflected in the counter-sample, however. Only 64 percent of the child-appropriate websites are launched. By contrast, Trend Micro and F-Secure each achieve rates of over 95 percent.
More features with dedicated parental control software
By and large, the Internet security suites included in the test do a good job. But they simply do not include additional special features for parental control. These are only included in the special parental control applications from Symantec, Kaspersky Lab and partly also in the Microsoft module.
The additional tested categories of additional functions as well as log and report functions actually offer what many parents are seeking. First, there is search engine protection. Here, the available search engine can be specified. This feature is supported by all three products. Likewise, on all test subjects, the access times for the Internet could be specified, but not the overall PC usage time. Only Symantec was missing the capability to block specific applications.
Microsoft does not know Facebook
The protection for Facebook is too new only for Microsoft. Symantec and Kaspersky protocol the entire Facebook activity and later feed it automatically into the reporting function. For direct access, there is also remote control and access, i.e. from another PC. This is offered by all the programs. Only the design varies from product to product.
If children are almost teenagers, their PC skills are usually better than those of their parents. But nonetheless, it's not very easy to shut down applications. None of the programs can be killed or uninstalled, for example, via the task manager of Windows. Only by way of detour through safe mode is it critical. Then the products from Kaspersky Lab and Symantec can be shut down. It's not as easy on the Microsoft module – for this, you are actually required to have administrator access rights.
Securing the evidence
With the help of log and reporting functions, the programs collect all possible data for parents: which websites were visited, and what was the child intending to visit, as well as the entire search history. All the packages tested logged this information for their reports. Symantec and Kaspersky also keep track of what has been posted on Facebook and when. Kaspersky even records when and which blocked programs have been launched anyway.
For time control, Kaspersky and Symantec log the entire PC usage time and, at the end, also prepare a neatly divided total overview of all violations.
Protection package or dedicated application?
If the main thing is filtering websites, the special parental control packages do a good job, as do the Internet security suites. In addition, the dedicated products can be more finely tuned to an individual child. What's more, there are simply more functions. The resources from Microsoft are well intended, but they do not intervene enough when surfing. While it is true that especially younger children are hardly capable of launching websites with sex content, the pathway to war games and illegal websites is too easy. Dedicated programs or the security suites are significantly more effective at this.
Concerning the additional control and reporting functions, parental control software is much more comprehensive than normal security packages. When necessary, the PC can always be controlled and by means of logs and reports, parents can fulfill their responsibility. That is why AV-TEST also certified the two comprehensive products, Kaspersky Safe Kids and Symantec Norton Family (see box below).
For older children, supervision becomes much more difficult, as they also use mobile devices such as tablets and smart phones alongside PCs. Here as well, the experts from Kaspersky Lab and Symantec have done their homework, and they offer comprehensive protection for Android and iOS. The products are then matched to one another on the various platforms.
Here is the certification process for parental control software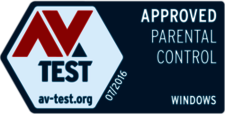 Parental control software is required to offer numerous features to earn a certificate.
In the current test, the products Kaspersky Safe Kids and Symantec Norton Family were certified by AV-TEST. To obtain the certificate, the software packages were required to overcome obstacles and demonstrate their reliability.
Foremost, of course, is the detection and filtering of websites. Both programs score clearly above the required 80 percent filtering performance for inappropriate websites. For suitable websites, the blocking rate is not allowed to exceed 10 percent. Both programs are also successful in this category.
In order for everything to work properly, naturally, certain functions need to be available. They are necessary for certification; various profiles for children of different ages are required in this respect. The program has to support the parents during installation. Naturally, search engine protection is a must, and standard browsers also need to be supported.
As an additional function, users have to be able to regulate the usage time for the PC or Internet access. Very important: active parental control software is not allowed to be ended via the task manager. Likewise, there needs to be active protection against uninstalling an application.
Another important feature is the reporting function with a total overview. Only in this manner can parents see what their children have been doing. Via the error lists, the program can then be fine-tuned even further.
All these criteria were fulfilled by the products Kaspersky Safe Kids and Symantec Norton Family, thus earning the certificate "APPROVED Parental Control Windows 07/2016" from AV-TEST.
Tests for home users
More ›
Tests for business users
More ›

Internet of Things (IoT)
More ›