11 Enterprise Security Solutions Tested under Windows 10
Many IT departments having Windows 8 PCs not belonging to their fleet of enterprise versions are quickly jumping on the bandwagon of upgrading to Version 10 free of charge. But which security solution works best with Windows 10 clients? AV-TEST tested 11 current versions.

Thus far, Microsoft's strategy of free updates to Windows 10 seems to be paying off. At least that's what the current numbers of various statisticians indicate. More and more Windows 8 computers for corporate users – having no enterprise license – are being converted to Windows 10.
1
Protection for corporate clients with Windows 10
2
Detection rates for enterprise solutions
3
Kaspersky Small Office Security
4
Bitdefender Endpoint Security
5
Symantec Endpoint Protection
Many high scores in terms of protection
The laboratory tested protection performance, involving just under 15,000 malware specimens in two test phases. The first phase, the real-world test, required the detection of zero-day malware threats from the web and from email attachments. In the second phase, the test with the AV-TEST reference set, the objective was to detect already known malware. The best performers in this category were the products from Bitdefender and Symantec. They identified 100 percent of the threats in both test phases. Client Security from F-Secure failed to recognize an old nemesis and thus achieved only 99.9 percent in the second phase. The laboratory awarded the coveted maximum point score of 6 a total of six times. The reference value from Microsoft indicated a detection rate of 93.1 and 99.6 percent; this earned 4.5 points. Only the solution from Seqrite was unable to surpass the reference value, achieving scores even below those of Microsoft in the percentage detection rate.
Performance vs. Detection
The performance or system load created by a product during detection on the client is a critical point, especially for corporate users. After all, existing workstations are normally not very heavily equipped. The products from Cylance and Seqrite required slightly too much system performance. For this reason, the testers only awarded 3 and 4 points respectively out of a possible 6.
The situation looks much better among the first four products in the table, which also achieved 6 points in detection. At the height of having the highest detection rate, the system load on the client remains small. Thus, the copying of data or executing programs was not negatively impacted. The corporate solutions from Kaspersky Lab, Bitdefender, Trend Micro and Symantec achieved 5.5 to 6 points.
Good usability lowers support overheads
The testers re-create the everyday routine of a client by visiting websites, downloading files, and installing and launching applications. In addition, the testers also have each product scan an additional 1.3 million clean files. When performing all these tasks, the solutions are not allowed to trigger false positives, as this scares the user and automatically increases the support overhead in an enterprise.
The results speak for themselves: 9 of the 11 products tested in this test phase perform so well that the testers awarded them 5.5 or 6 points. Only the network watchdogs from F-Secure and Cylance received 4.5 and 4 points respectively in this category. Both flagged several benign files and applications incorrectly as malware threats and blocked them.
Good protection for Windows 10 clients for corporate users
In the overall ranking, Small Office Security from Kaspersky Lab made a strong finish with 6 points each in all three test categories. Further products from Bitdefender, Trend Micro and Symantec follow very close behind, however, with 17.5 and 17 points. In the category of detection, all these solutions demonstrate the most professional results. They merely lag somewhat in terms of system performance or usability.
While the products from Cylance and Seqrite are not bad in terms of operation, they fail to score higher in the overall ranking than the reference value set by the Microsoft Security Module.

Test reports from November/December 2015,
enterprise solutions under Windows 10
All results ›

Security software as a company tool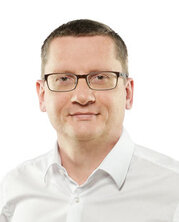 Guido Habicht, CEO AV-TEST GmbH
Within a corporate environment, administrators can set up many rules or handle user rights restrictively. If a proper security solution is missing in this equation, companies may be at grave risk.
The security strategy of a company cannot only be based on reasonable employee behavior and a good administrator. A reliable security solution for clients and networks should be the cornerstone of the strategy. Only in this way can user faults be mitigated or prevented entirely, such as thoughtlessly opening a mail attachment or inserting a USB stick that an employee previously found somewhere. Because the cleanup of infected workstations, network drives and removable storage media costs time, money and, in a worst-case scenario, a customer order and the company's reputation.
For most modular-design client-server products, protection is only one aspect, yet it is among the most important. The solutions also include the protection of servers, network drives or the access to mobile devices, for example. This is also part of the concept, safeguarding against the often common proliferation of unauthorized access in companies. The administration of Wi-Fi networks or other network access is also centrally controlled by solutions. Flanked by the existing validated performance data, companies seeking a security solution can fully focus on features and modular scalability.
Tests for home users
More ›
Tests for business users
More ›

Internet of Things (IoT)
More ›